No one cares about your fantasy team but just incase anybody did, it would be me. Why? because I'm a loving caring individual. Fantasy makes things interesting. I like football, I don't love it but I can sit on my couch all day Sunday watching it just because of fantasy. In other words, fantasy is a good time.  Every year there are guys who are overrated, underrated, consistent, potential breakout stars and risky options. Let's see if anyone cares about your fantasy team as much as I do.
*all rankings are getting based off of MLB.com rankings
Overrated
Jonathan Villar– Villar has already showed sneaky pop throughout his career from both sides of the plate and it finally came to fruition on 2019. The shortstop batted .274/.339/.453 with a career high 24 home runs, 73 RBI's, 111 runs and 40 stolen bases playing in all 162 games. Villar is a bonafide stud, he made that obvious last year and in 2016, the whole problem is he is moving to Marlins park, which although was 6th in the league in runs per game at 1.087, but finished 28th in home runs per game with .828 only ahead of San Francisco and Kansas City. Maybe less homeruns will turn into more doubles and triples which still helps slugging percentage and still makes Villar a great asset. Not even considering the stolen bases involved, but Villar playing for baseball's second worse team, not hitting in front of a beast like Trey Mancini to bring him home, and a downtick in home runs that is expected, is Villar is still a great value, but might be a reach as baseball's third best third baseman.
Mlb Rank/Positional Rank: 35 overall/2B-3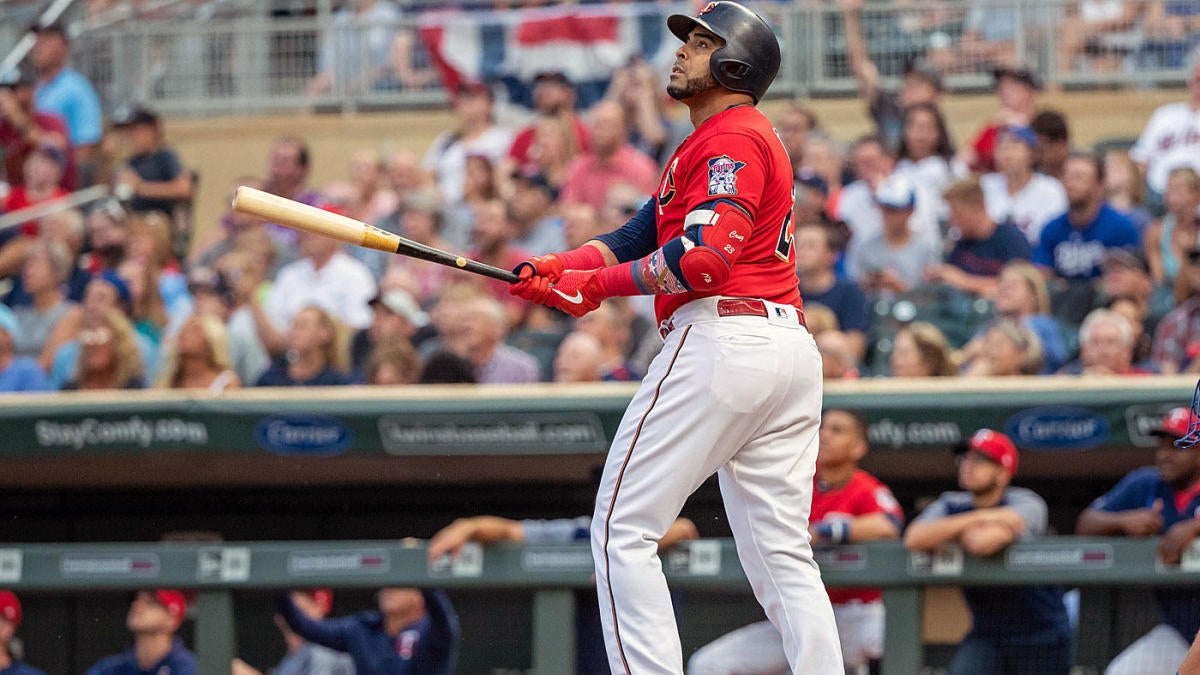 Nelson Cruz- I love Nelson Cruz. Guy signed an autograph for me when I was like 11-12 and was as nice as can be. I love his consistency and defying the odds of father time just like the great Barry Bonds and Julio Franco did. However, Can he do it AGAIN at the age of 39? That is the question and which makes him maybe an overrated bet coming into draft season. Yes, I know I could be an idiot for this take given the man has averaged 40.6 home runs a year since 2014, but Cruz played his lowest amount of game since 2013 and father time is due to play a factor at some point. I hate to be pessimistic about a guy I actually like, but all I'm saying here is be careful when you draft him only because he only qualifies for DH and the utility position can be utilized for the needs of the team for that week. Over drafting him takes away the utility position anytime you need it. Cruz probably won't play over 125 games this year but will contribute when he plays. Great source of power.
Mlb Rank/Positional Rank: 62 overall/DH-1
Underrated
Trey Mancini- This is my guy. The dude can flat out rake. He may not have a permanent position and can get overlooked because he is stuck on the Orioles, but he can hit everything and anyone. Mancini seemed to get the memo that walks are essential to baseball and makes you that much more valuable. He walked a career high 63 times (opposed to his other career high of 44) maybe it was because he and Jonathan Villar were the only threats in the lineup but it worked out. He also had career highs in home runs (35), runs (106), RBI's (97), hits (175), doubles (38), OBP (.364), and slugging percentage (.535). The sky is the limit for him. The only problem is, is he is stuck on a weak offensive team in Baltimore and might be pitched around more than usual. However, helping in OBP leagues. Contributes in every offensive category except stolen bases.
Mlb Rank/Positional Rank: 106 overall/OF-27
Franmil Reyes– Another guy with tremendous power. Stuck in one of baseball's worst parks for power, Petco Park, Reyes has an opportunity to show why he should have been starting all of last year with a starting role in either left, right or the DH spot. Reyes finished 2019 with 37 home runs in 150 games so 40 is not out of reach. If Reyes learns to take few extra pitches and lay off the bad ones, 47 walks/156 K's, Reyes could become on of the AL's best power hitters. If you are in need of home runs later in the draft with the possibility of breaking out, Reyes is a steal in the waiting.
Mlb Rank/Positional Rank: 187 Overall/ OF-44
Miguel Andujar– Another guy that can flat out hit. Maybe not the best fielder, but who the hell plays in a fantasy baseball league with errors attached? Weirdos, that's who. Following an injury plagued 2019 that saw him only play in 12 games while hitting .128 through 47 at bats which included ZERO home runs, Adujar is back and this time will be manning a new position; outfield. With this position change, that should give Andujar two position eligibility; third and outfield. In 2018, Andujar hit .297/.328/.527 with 27 home runs, 92 RBI's, 83 runs, 47 doubles through 149 games as a 23 year old rookie. The only knock on Andujar is he doesn't walk much but I'm sure fantasy owners can ignore that hitting at the friendly confides of Yankee Stadium and a loaded Yankee lineup. Bet on him to bounce back strong.
MLB Rank/Positional Rank: 180 Overall/DH-3
Consistent
Whit Merrifield– The absolute biggest steal in all of Major League Baseball in terms of value and worth. Merrifield is getting railed by the Kansas City front office by signing a VERY team friendly contract of 4 years for $16,250,000 and no restructure in sight. I love how Merrifield plays. He plays hard, never is in the media and puts his head down and plays the game the right way. If that's a saying still, and I knew what the right way was, I would say Whit Merrifield plays it perfect. Let's talk fantasy. After stealing a league high 45 bases in 2018, Merrifield regressed a tad and stole 20 bases in 2019 while getting caught a league high 10 times. Another aspect of Merrifield's game that was a little shocking, was he only walked 45 times along with a career high in strikeouts with 126. Other than those stats, Merrifield can do it all. Whether your league is OBP and or Slugging, Merrifield contributes. He'll put up a slash of .300/.340+/.450 plus 15-20 home runs, 20+ stolen bases, 100 runs, 190+ hits and a decent amount of RBI's for a leadoff man. Last year, Merrifield 41 doubles, 10 triples, 16 home runs, and 20 steals. Only person in the big leagues with at least 40-10-15-20. In other words, look for him to have similar numbers contributing in all offensive categories except RBI's.
Mlb Rank/Positional Rank: 48 Overall/2B-5
Jacob DeGrom– Is it soft of me to have the back to back Cy Young Award winner in this? Maybe but let me explain. DeGrom would be the best or second best to Gerrit Cole if the Mets could score when he pitches. DeGrom gets no help when he pitches. Through 2018-2019 DeGrom has an ERA of 2.05, .941 WHIP, 524 strikeouts, only 90 walks and in a hitter friendly time in baseball, DeGrom has only a .6 HR/9 rating. DeGrom is as consistent as they come and if you're one of those people that like to load up on a few good pitchers, he should come immediately after or could even be picked in front of Gerrit Cole. He will not disappoint.
Mlb Rank/Positional Rank: 15 Overall/SP-4
Potential Breakout
Tyler Glasnow– Glasnow displayed early in the first half of the 2019 season of the potential he has possessed since an early prospect coming up with the Pirates. He as always had the stuff, just needed to put it together and what better place to do that than Tampa Bay. Through his 60.2 innings, Glasnow had an ERA of 1.78, WHIP of .890 and 76 strikeouts opposed to only 14 walks. Given a whole year, maybe even 160-170 innings, Glasnow should easily surpass 200 K's while having an ERA lower than 3.00 as well as a WHIP lower or right around 1.00. The only thing slowing him down is his history of injuries. He's worth the risk.
Mlb Rank/Positional Rank: 65 overall/SP-20
Adalberto Mondesi– If the Royals have one of my favorite cores in baseball with Merrifield, Mondesi, Dozier and Jorge Soler. Mondesi has the potential of 15-20 home runs and 40+ stolen bases. Through only 102 games last year, Mondesi batted .263/.291/.424 with a tie for the league high in triples with 10, nine home runs, 62 RBI's, 58 runs, and 43 stolen bases. What is a little concerning from a real life standpoint, AKA not from a fantasy aspect is his 19/132 BB/K ratio. He has never shown the ability to walk or at least care to walk and in OBP leagues, that is the only hit you will be taking with him. Other than that, if Mondesi can play even 140 games, Mondesi has the potential to steal 55-60 bases along with 15-20 home runs, 70+ RBI's, 85+ runs. He has the potential to show the baseball world that he can become one of the better players in the game with a whole season under his belt.
Mlb Rank/Positional Rank: 39 Overall/SS-7
Risky
Chris Sale– As of today, March 4th, Sale is undergoing an MRI on his left elbow that haunted him towards the end of last year. In regards to that, I was actually going to name that as a reason which makes Sale a risky pick this year. Sale is always a bet for strikeouts even if he isn't 100% healthy but now his season is in doubt. Given Sale's MRI comes back negative, he will almost certainly start the season on the IL and won't be available until closer to the All-Star break. Be VERY cautious but if he is due to come back after the All-Star break, he could be a late steal in the draft given any IR spots on your bench.
Mlb Rank/Positional Rank: 31 Overall/SP-8
Justin Verlander– Ol' Mr. Reliable. After stealing the Cy Young from Gerrit Cole last year, Verlander looks to continue his dominance even at the age of 37. Verlander has looked great since coming over to the Astros and although he hasn't shown any signs of slowing down, this could be the year. With all the bad happenings to the Astros this off-season, Verlander could follow suit given all the negative energy towards the team. Who knows, but the man has got to slow down at some point and this COULD be the year. No reason to think he will slow down except father time has other ideas. Feel confident drafting him but know decline will happen at some point.
Mlb Rank/Positional Rank: 10 Overall/SP-2
Jorge Soler– After struggling with his injury history up until last season, Soler showed the baseball world what they have been waiting for since being a prospect for the Cubs for a number of years. Soler played in all 162 games last season to go on and hit .265/.354/.569 with a league leading 48 home runs, 117 RBI's, 95 runs, 33 doubles and also lead the league with 178 strikeouts. The only part of Soler's game that is risky is his health. The talent is there and it showed, but if Soler can't stay healthy and makes a couple IL stints, it could be a long year for owners that draft him. If he stays healthy, he will be fine. Maybe not repeat 48 home runs but be a great source of power still.
Mlb Rank/Positional Rank: 76 Overall/OF-16
Other Interesting Options:
Jeff McNeil – Consistent – Mlb Rank/Positional Rank: 79 Overall/ OF-17
Luis Robert – Potential Breakout – Mlb Rank/Positional Rank: 84 Overall/ OF-20
Michael Conforto– Consistent – Mlb Rank/Positional Rank: 114 Overall/ OF-29
Brandon Lowe– Underrated – Mlb Rank/Positional Rank: 210 Overall/ 2B-13