Sometimes the world works out how it's supposed to work out. Dreams do come true. After getting let down with the bullshit American League Rookie of the Year voting choice, still respect for Ohtani but he didn't deserve it, the baseball gods have came down and touched me on my forehead (and maybe somewhere else) to give me faith again in these old garbage Baseball Writers. Let's take a look at these award winners.
National League: Jacob DeGrom– New York Mets
I would have personally found out which idiots didn't vote for him because of his anemic offense that couldn't support him with any runs. DeGrom ended the season with a major league best ERA of 1.70 throwing 217 innings, with 269 strike outs, and a WHIP of .91. All the while having a beautiful 11.2 strike outs per nine innings. DeGrom should have won unanimously, although he did recieve 29 out of 30 first place votes with the one lone voter voting for Max Scherzer over DeGrom. That one man was John Maffei of the San Diego-Union Tribune. This is the man who simply didn't choose DeGrom because of his 10-9 record. This is just too good to not write about. He spoke with Randy Jones, a man named the 1976 Cy Young award winner for the San Diego Padres, Mr. Jones had a 22-14 record for a Padres team that went 73-89 and was quoted saying: "Wins are the most important thing in the game. You need to pitch to the run support you get, whether that's one, two, three or 12." I'm guessing he told him this after he started to get ripped for his vote of Scherzer but he went on in his column saying "After speaking with other baseball experts, looking at Scherzer's 2.53 ERA and his historic 300-strikeout season — making him one of only 17 pitchers to do that since 1900 — my vote was swayed." Said Mr. Maffei. I'm guessing he stayed up all night trying to justify his vote and that's what he found. Good for him.
Anways, DeGrom was more deserving. If the Mets would have scored just TWO runs in his starts, his record would have been 20-6. So, is that Degroms fault? I can't tell, but I know someone who thinks it is.
DeGrom had 29 of the 30 total votes for first place. Max Scherzer, with his 300 strike outs and ERA of 2.53 came in second with his one lonely first place vote and 29 second place votes. Aaron Nola's breakout season resulted in a third place finish with 27 third place votes. All in all, it was a historic season for DeGrom and Scherzer both, but DeGrom deserved all the credit. Congrats.
American League: Blake Snell- Tampa Bay Rays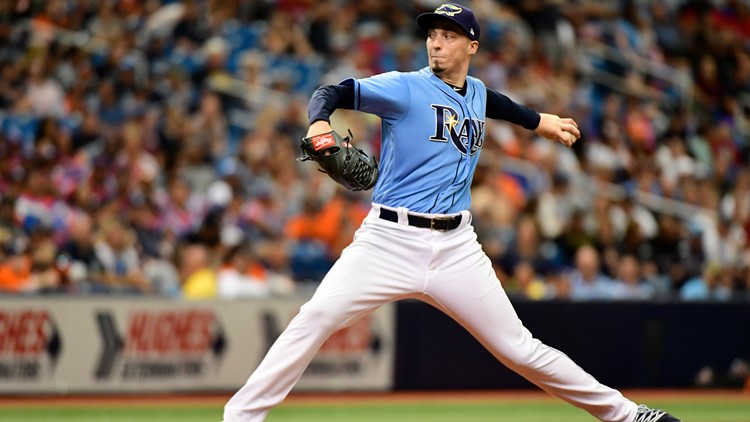 This one was a little closer. Sting em Rays up, Rays up sting em. Snell was most deserving as he registered 1.89 ERA, .97 WHIP, 221 strike outs, through 180.2 for an unorthodox Rays team that he was really one of two legit starters they carried, the other being trade deadline accusation Tyler Glasnow. Snell is the first pitcher to win a Cy Young with the least amount of innings thrown in the history of baseball. The only other person to take home a Cy Young award with less than 200 innings pitched is Clayton Kershaw who threw 198.1 innings to take home the 2014 NL Cy Young.
The voting was a bit closer in the American League as the Astros Justin Verlander also had a fantastic season going 16-9, making 34 starts while registering 290 strike outs through 214 innings with an ERA of 2.52. Verlander has now came in second place in the Cy Young voting three times in his career and even coming in third once. Bit of bad luck, but numbers don't lie. Not taking anyting away from Verlander, as when it's all said and done with him and his career, he should go down as one of the best during his tenure, he just keeps choosing the wrong years to ball out. Snell captured 17 first place votes while Verlander accumulated 13. Snell ended up finishing with 169 total points compared to Verlander's 154. Coming in third place was the Indians ace Corey Kluber who finished 71 total votes and Chris Sale was next in fourth place.
What a year to be a Tampa Bay Rays fan. Snatching another Cy Young from Verlander as David Price did the same thing to the poor man back in 2012. Sting em Rays up, Rays up sting em. Let's go.