The race is on.
Coming into the 2018 season, Ronald Acuna was getting drooled over by every baseball analyst, scout, and Braves fan. He has done nothing except meet expectations. Prior to this month, Acuna was hitting well. His average hovering around .250-.270 for the most part, but you could tell something wasn't clicking. Then, the Braves moved Acuna to the leadoff spot. And shit got real. Since moving to the lead-off spot, which he has been for about a month now, his numbers are beautiful to look at. in the last 28 days, Acuna has put together a slash line of .327/.409/.752– 1.161OPS, along with 12 bombs and 6 steals. With those 12 bombs, Acuna set an MLB record as the youngest player to homer in four consecutive games. The last person to do that? Miguel Cabrera at the age of 21.
There is so much to love about Acuna's game. Aside from his .286/.355/.571– .926 OPS– line that comes with 21 bombs and 10 steals, the man has all five tools GM's, scouts, and managers drool over. Before he even reached the bigs, pressure was set upon him to succeed at the highest level early on. As a young 20 year old, that sometimes is too much to handle. It seems he might have learned to block out all the extra noise. Imagine being asked the same questions about your future basically everyday leading up until you finally make your debut. Then, when you make your debut, performing to the expectations put upon you, which were astronomically high already. Acuna has conquered them all up until this point in his MLB career. It's scary to say he could be better than this, but only time will tell.
Next we have our other young phenom, Juan Soto. Coming into the year, Soto started out in Single-A, got moved up to High-A, dominated that, Then was moved up to Double-A, and of course, dominated that as well. Then April 5th happened. Adam Eaton went down with an ankle injury and was placed on the DL April 11th after his healing process was going a little slower than usual. That led to surgery on May 10th. Welcome his replacement, Juan Soto.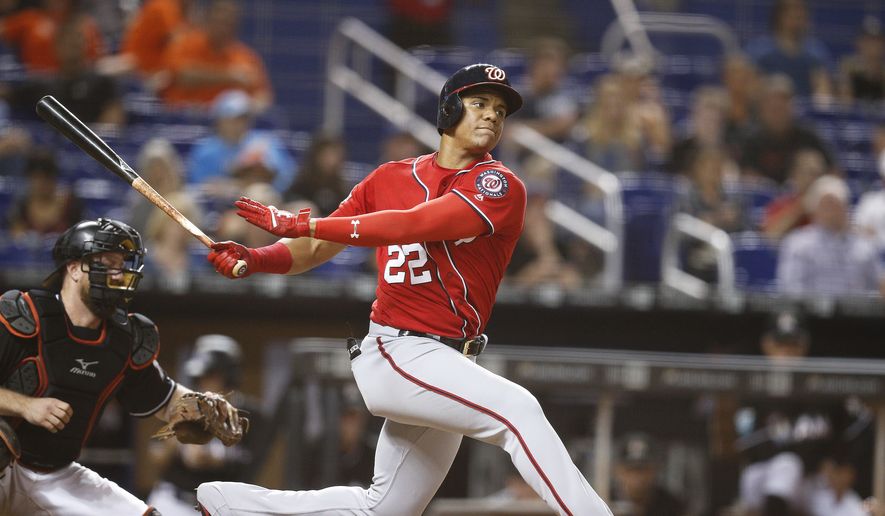 At the ripe age of 19 years old, Soto was brought on by the big league club SKIPPING Triple-A all together, a feat rarely done in today's game. How did Soto respond? Through 83 games Soto has hit .287/.406/.512– .920 OPS, along with 15 bombs, 18 doubles and a whopping 59 walks– which league all rookies– compared to 68 strikeouts. His on base percentage also leads the league coming in with that .412 clip. For a 19 year old that started the year in Single-A, it's crazy to think about. Like Acuna, Soto also entered the record books this season with his 4 hit and 2 home run game against the Phillies becoming the first teenager to complete the feat. At 19, I was a college freshman bullshitting around in my life just trying to hone my craft and this dude is setting records in Major League Baseball. Just trying to put things into perspective for us "normal" people in society.
In the end, we have a 19 year old and a 20 year old both going to finish 1st and 2nd. That's a fact. Acuna does lead in the WAR category by a whole point, 3.1 compared to 2.0, but this is going down to the wire and should be fun to watch the rest of the year. 3rd place will most likely go to Brian Anderson of the Miami Marlins who quietly has put together a solid season this year. He just chose the wrong year to try and make a run for the NL Rookie of the Year.
#freebigdad