In 2017, Corey Kluber took home the award for league's best pitcher by a wider margin than expected. He garnered 28 1st place votes opposed to Chris Sales' two 1st place votes. Although the total vote points were a little more showing with Kluber having 204 total, while Sale had 126. Even though Sale posted the first 300 strike out season since Kershaw did in 2015, it just was not enough.
With 2017 in the past, 2018 seems to be shaping up to be a much tighter race than we have seen in years past. In 2016, Rick Porcello edged out Justin Verlander by a total of FIVE votes even though Verlander accumulated 14 total 1st place to Porcello's 8. In 2013 the margin was even slimmer with David Price edging out Justin Verlander again but this time by FOUR points with Price capturing 14 first place votes compared to Verlander's 13. Competition always seems to be tight in the American League, who is supposed to be known for their hitting. With the 2018 season closing and most pitchers having less than 10 stars left, let's take a look at these FIVE pitchers who are in the hunt.
Trevor Bauer-  The man of the numbers 69 and 420. AKA- this years dark horse. Bauer has always had the potential to put up great numbers, and this year he has finally broken through. Through 159.2 innings, Bauer has put up an ERA 2.25 ERA, third in the league, 206 strike-outs, second in the league, a WHIP of 1.12 and a WAR of 5.2, ranking 2nd in the league, according to ESPN. Along with his 11 wins, he ranks easily in the top 10 in every major pitching category and top three in ERA and strike-outs. Although Bauer might not be able to hold off Sale and Verlander, a few bad starts from either might catapult Bauer to the front of the race.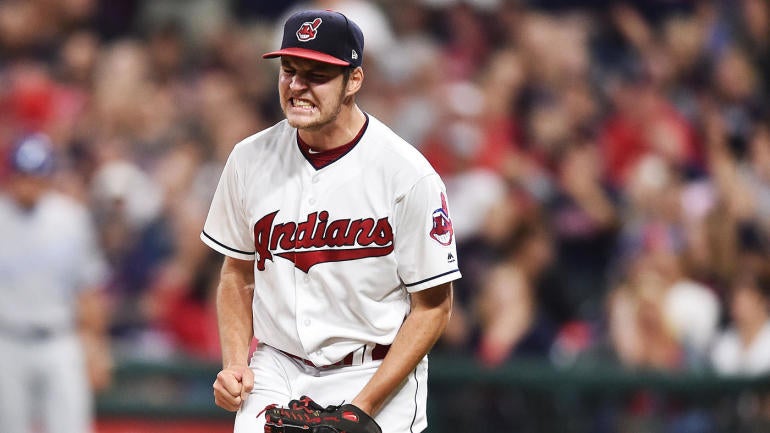 Corey Kluber- Not sure if Kluber is doing something weird with teammate Trevor Bauer, but they could be riding the same dark horse. Except Kluber's is more of a grey horse as he is used to being in this conversation. For the past four years, Kluber has taken home TWO Cy Young awards. Amazing considering his competition every year. This year has been more of the same for the reigning Cy Young award winner. Through 154 innings, he is a little behind his usual pace of strikeouts with only 146 so far this season, but he does he a 2.63 ERA and a WHIP of .92, which is good for 3rd in the league. Although his numbers are not eye-popping like usual, he still is tied for third in WAR with a 4.9 mark. He will be looking to accomplish his 5th year in a row of 200+ strike-outs with 9 or 10 starts left to go. Never count Klu-Bot out of Cy Young contention.
Gerrit Cole- Houston, we don't have a problem. Every time a pitcher moves from the National League to the American League, there is always some type of talk that it will inflate their numbers. Having an extra hitter to pitch against has done nothing except help Cole. It may be the coaching in the Houston system, or it could be the aliens sending down some type of undetectable enhancement that Cole has been inhaling since arriving. Whatever it is, Cole has been great in his first big league season in Houston. Sitting at 146.1 innings, he has a 2.64 ERA, .99 WHIP, 4th in the league, 202 strike-outs, also 4th in the league. With 9 or 10 starts left in the season, there is a slight chance he could reach his first 300 strike-out season. Usually, those numbers are easily good enough to be considered the ace of a pitching staff, but not in Houston.
---
 Justin Verlander– Which leads me to the next Cy Young hopeful. Verlander seems to be getting with age and it really is not normal. Just like Cole, he seems to have gotten even BETTER since moving to Houston. Thus, not completely counting out my alien theory. After being nearly untouchable in his five starts with Houston in 2017, Verlander is proving it was no fluke. 2018 has seen Verlander put up a 2.19 ERA, 2nd in the A.L, .876 WHIP, also 2nd in the A.L, 204 strike-outs, 3rd in the A.L, and a WAR of 4.9, which is tied for 3rd in the American League. Verlander has finished 2nd twice and 3rd once in his career for Cy Young. After barely losing the Cy Young to Rick Porcello in 2016, his competition will be a little tougher competition, but there is no denying Verlander being one of the 3 front-runners this year if he keeps up the pace.
Chris Sale- In 2016, Chris Sale was giving a very uncomfortable jersey. His response, like anyone else given clothing they don't like, he cut it up before one of his starts. He was sent home for the day. In his defense, he warned the White Sox to not fuck around with his attire and he would not pitch in an uncomfortable jersey. They did and they paid for it. That year he put up the worst numbers of his career as we saw his ERA sore to 3.41. I'm not 100% sure but like 95% sure the Red Sox give him all the jerseys they fuck up on to take his anger out before his starts. With this new scientific method the Red Sox have created, it has done nothing except produce results for Sale. In 2018, Sale is leading the American League in strike-outs with 207, ERA with a 2.04 mark, and WHIP with a .872 mark, edging out Verlander by 4 hundredths of a point. Currently on the DL right now, Sale should only be missing one start to get his body ready for the postseason. Let's hope for that as he is going for his second season in a row of 300+ strike-outs.
Honorable mention- Blake Snell (Rays), Luis Severino (Yankees), Charlie Morton
In 2010, we saw three pitchers garner 100+ total points with all finishing within 65 points of each other. 2018 should be more of the same. With these 5 pitchers all being legit Cy Young contenders, this race could be going down to the very last start of two to end the season. Stay tuned to one of the closest Cy Young races in recent history.
P.S- How funny was that joke at the beginning of talking about Gerrit Cole? Sign me up.