On April 2nd, 2018, a man by the name of Donte DiVincenzo had the game of his life. The Villanova Wildcats became 2018 NCAA basketball champions beating Michigan 79-62 behind DiVincenzo's career high 31 points coming off the bench, the most in NCAA championship game history. It was a beautiful scene on the court as he the won Most Outstanding Player award for his performance. Before the game, few knew of Divincenzo, after the game, most of the United States knew of him, but not for the right reasons. Come to find out, some bored person with way too much time on their hands, decided he would check this dudes twitter out. He hadn't used his twitter since 2016, but yet the internet never forgets.
The tweet read "Ballin on these n—-s like I'm derrick rose!" a song lyric to be exact from Rapper Meek Mill. Divincenzo was just a young, tender, 14 year old freshman in high school at the time, probably getting out of basketball practice and waiting for his mom to come pick him up. He probably was feelin good after a practice, made a few clutch 3's during a scrimmage, and ended up making a horrible mistake by singing his heart out on twitter. And the internet/world could not handle this. During his press conference after the game, the media had the audacity to bring this irrelevant stupid shit up. By this time, he is no longer a wide eyed 14 year old freshman and has learned what to say and what not to say. The media still questioned him as if he sent that tweet out 5 minutes before sitting down for that press conference. Thus, starting a new trend of bored people letting the world know what he said as a teenager.
With the world trying to move forward, why do some of us love to bring up the past and live there for longer than we should? This 21 year old just had the best night of his life on the biggest stage in college basketball, and the media hits him with questions NOT relating to the game he just won Most Outstanding Player in. Were they serious? Best believe it. Do they have common sense? No. Were they just trying to get a headline grab and basically ruin this young man's night? Hell ya. The funny thing is, these media people don't have their Twitter handles checked because they're almost as irrelevant as the questions they were asking. Or the more likely answer, they're too big of nerds to say anything worth mentioning 7 years later.
The term "what's in the past is in the past" does not apply anymore, especially to the internet. Before the 2018 NFL draft, the number 7 overall pick, with some huge hands I might add, Josh Allen had the same shit happen to him. Some of Allen's tweets from 2012 came to light after a lengthy 6 year absence. But remember, the internet never forgets. Some of his tweets read, according to ESPN,
"@cheriishhh: i dont think you n***** want a troubled son!" — Josh Allen (@JoshAllenQB) June 14, 2012
"@FelipeeeeMelo_: Bout to show up these N*****at pong. Gonna do for @j_prodigy_5 @AFlyer5 and @J_Sal_Forever_5.":) — Josh Allen (@JoshAllenQB) February 26, 2012
Why are you so white ? — If it ain't white, it ain't right! http://t.co/wsLQKZQWG5 — Josh Allen (@JoshAllenQB) June 25, 2013
Obviously still a young buck and not knowing what this world would come to, he made a couple mistakes. Yes, he probably should not have used those words. Did he mean them in a wrong rude manner? NO. The first tweet reads as a song lyric to me. The second tweet he was just talking shit to his boys and even had a smiley face inserted at the end. The third tweet, little questionable but still, it's not like he meant it. We don't see the guy going to rally's promoting how he talked when he was 15 and 16 confused about what was actually going on in life. Most of us have said dumb shit on Twitter or the internet. I say dumb shit all the time including most of the time I speak, but it was when we were young, immature, and uneducated humans at an age where we were more worried about acting "cool" in front of hot girls and friends then knowing and understanding right from wrong. These tweets were of course brought up right before the NFL draft and could have costed Allen a few million dollars and/or a starting job on a team. Fortunately, The buffalo Bills saw past that horrible, misguided, young teenager Allen must have been and still took him 7th overall. Not bad for a foul mouthed teenager.
Then, recently we had Trea Turner of the Washington Nationals come under fire for acting his age back in 2011 and 2012.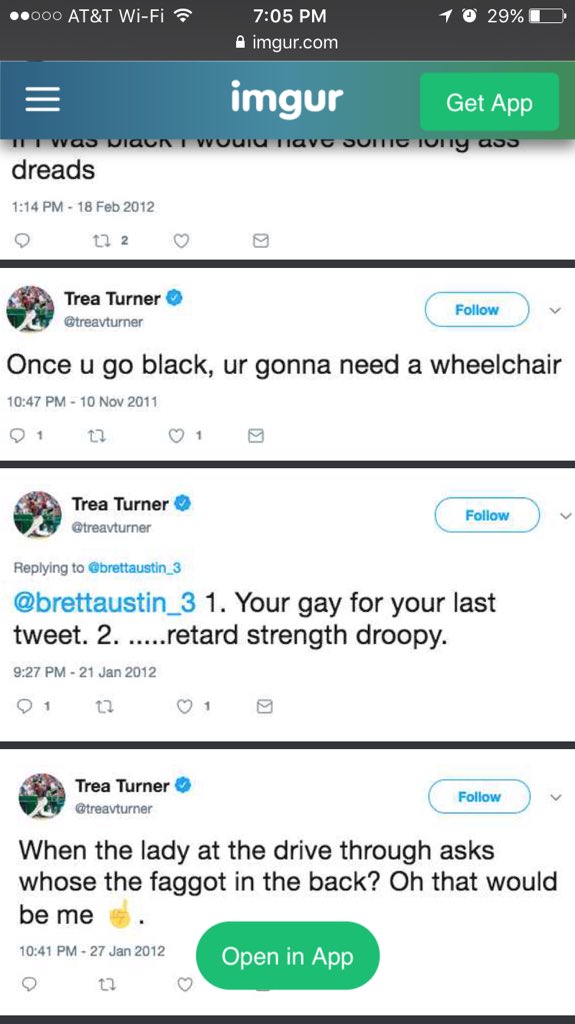 Those are actually pretty funny looking back when you know he's just fucking around. He ripped on himself in the last one and I don't even know what the first tweet means but it kind of made me laugh. I mean, those were horrible things to say and he needs to apologize immediately because I am offended and need an apology. In all seriousness, he probably shouldn't have used the hard Faggot word, which is offensive when used in the wrong terminology, the real definition of the word reads as follows according to Google's dictionary:
a bundle of sticks or twigs bound together as fuel.
This is one of those situations where I'm not really sure which definition he was using, but the world decided to take the latter. Of course, Turner had to get bombarded by the media, apologize for his past immature self, apologize to every player on his team, apologize to the Nationals front office, apologize to the world, and all the deities out there lurking around. Thankfully, General Manager of the Nationals, Mike Rizzo spoke upon the news he heard and back up turner releasing a statement that read: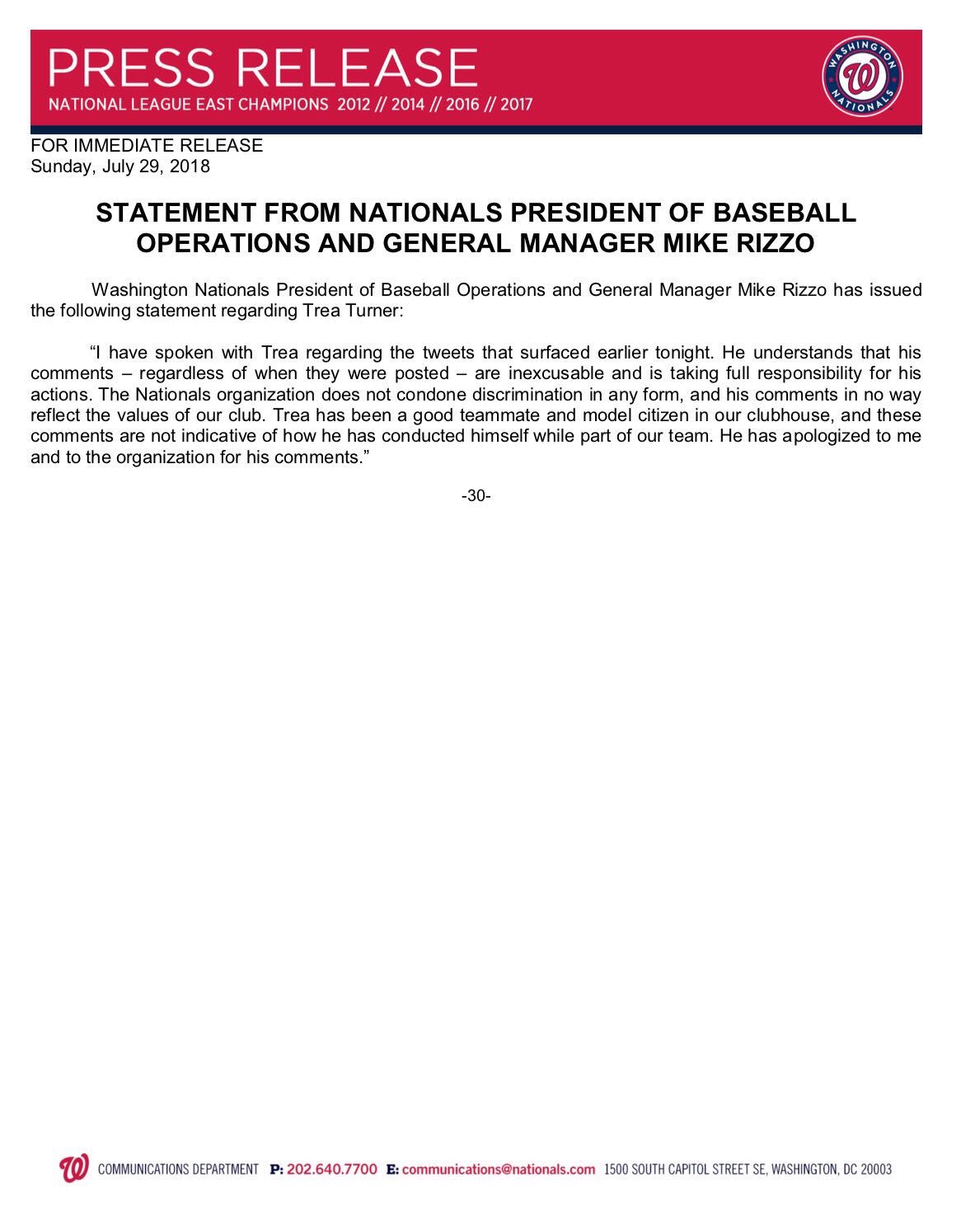 It seems to me, Trea has evolved past his teenage years according to the man who is one of his bosses. Turner to me, sounded like a pretty funny teenager who I might have been hanging around at that age, if given the chance of course. I was usually the one getting picked on sitting in the corner of the library so maybe I might not have had a chance, but still. These tweets surfaced a couple weeks after he set a record for most RBI's out of the leadoff spot with 8 and hitting his first career grand slam. Shame on teenager version Trea Turner for speaking like a teenager.
This brings us to our last case of learning more of the same of how teenagers behave. On July 29th, 2018, Atlanta Braves starter, Sean Newcomb almost threw a no-hitter. Newcomb got all the way to the last strike taking a 2-2 count 2 outs 9th inning battle with Chris Taylor of the Dodgers only for Taylor to shit on his parade and single into left field. This is a day Newcomb will never forget. But, hopefully for the right reasons. Right on que, Twitter and the internet decided to come out from hiding all the way from 2011 and 2012.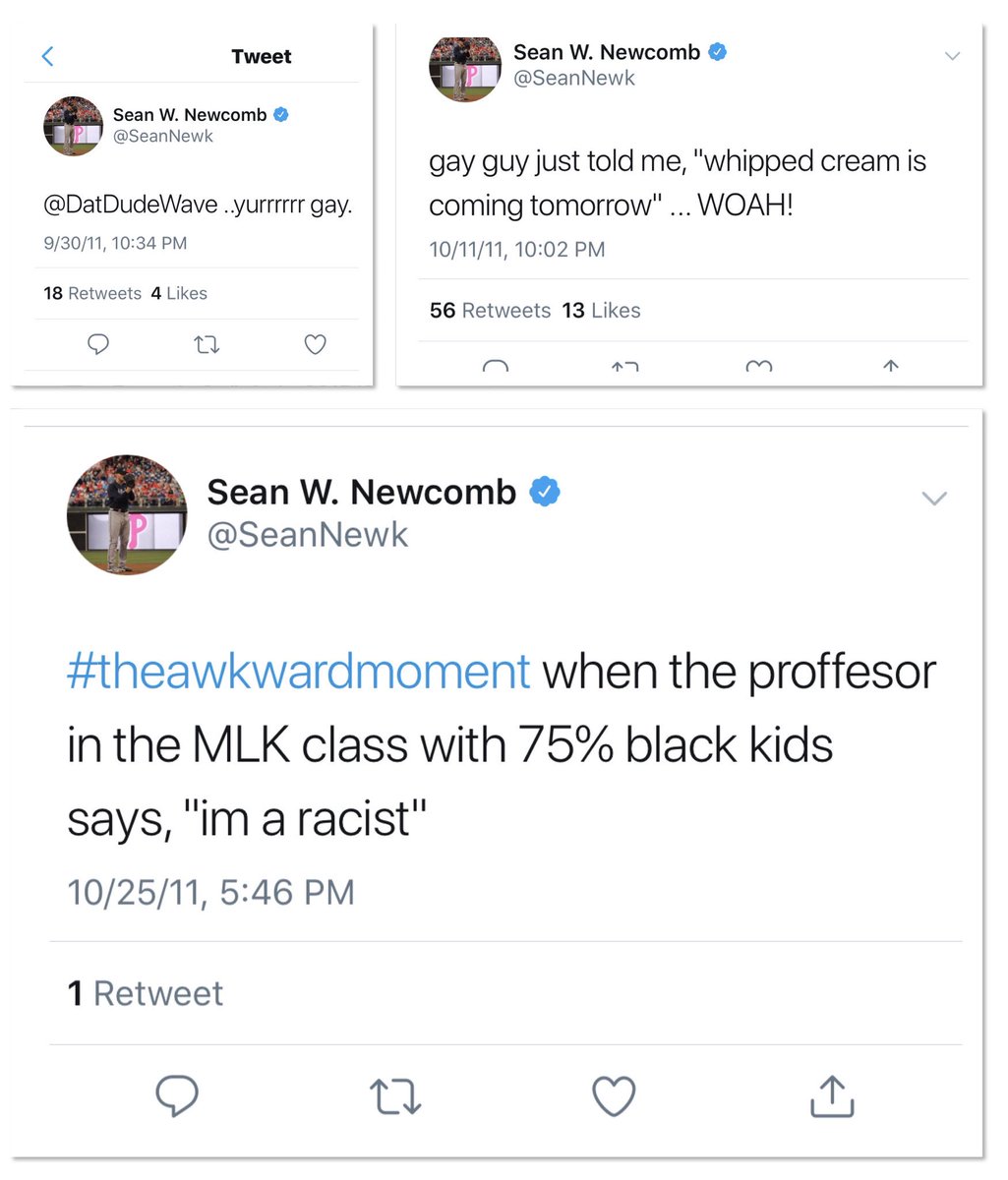 And just like that Sean Newcomb's highlight of his baseball career came to end before he could even reach the clubhouse. He immediately called for the Braves media to issue an apology statement.
"This is something that obviously can't be happening. I feel bad about it. I don't mean to offend anybody. I definitely regret it." Said Newcomb.
Another case of the teenagers. These guys can't seem to escape it. If there were somehow they could have skipped the Twitter generation and their teenage years of their life, they might have been able to enjoy these moments to their fullest extent. It really is sad that a guy cannot even enjoy one of the best nights of his baseball career and instead is reminded how dumb and immature he was when he was 18 years old. Thankfully, the Braves released a statement similar to what Mike Rizzo of the Nationals released: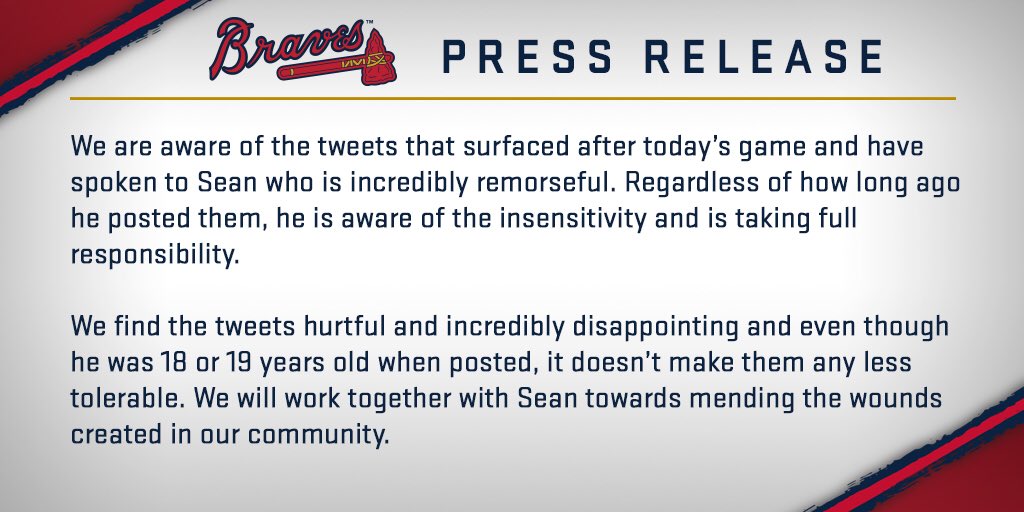 Hopefully the community has recovered and has not yet turned over in their graves. The good thing about all of these players and men who were called out, is all of them seemed to have grown up and taken full responsibility for their wrong doing. They knew it wasn't right to say those things and will definitely not make that same mistake again. And most likely have deleted their Twitters and will never use those ever again either. It was a lapse in judgement at a young age where our judgement compass never really worked. Before we know it, the world will be full of monotone speaking robots who only speak when told to and are not allowed to think for themselves.
That is what makes life beautiful. It's part of growing up as a person. You live and learn as you advance through life. You learn from your own mistakes and move on. None of their talk/tweets were meant to be taken seriously and had no depth into any of it. But what did the internet/world do? Take it out of context and remind the world what it's like to be a teenager.
So what have we all learned? Don't use Twitter, don't be a teenager, and don't do well in sports because in the world we live in today, everything you do and say is and will be put under a microscope. Also, if you own stock in Twitter, it might be time to sell.
Life is beautiful. Enjoy it while you can.